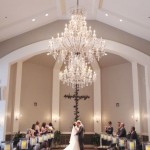 My Favorite Wedding and Reception Venues
With over 30 years of designing flowers in the Dallas-Fort Worth metroplex, I've been to countless wedding and reception venues. I've been to the good, the bad, and the incredible. There are so many choices for Dallas-Fort Worth area brides. With so many options to sift through, friends, family, and clients often ask me for recommendations when trying to find the perfect place for their wedding and reception.
While it's nearly impossible for me to simply peg "my favorite" venue, I have compiled a list of venues that I can whole-heartedly recommend. Varying in size, price, location, and atmosphere, each of these venues has something different to offer. While this is not an exhaustive list (I continue to add to it as I find new places), it will hopefully give brides in the DFW area a good place to start searching for their dream wedding and reception venue.
---
 Ruthe Jackson Center
3113 S Carrier Pkwy
Grand Prairie, TX 75052
www.ruthejacksoncenter.com
972-237-7500
I love having weddings at the Ruthe Jackson Center for many reasons. There is a lovely gazebo in their outdoor garden area that is an ideal spot for an outdoor wedding. The staff always maintains beautiful gardens that change with the season. The indoor facility is just as nice, with several ballrooms to choose from for the reception. Plus, the indoor facility makes for a lovely Plan B in case of rain–a must for outdoor weddings in Texas. The event coordinator Cheryl Allgood is wonderful to work with; she treats brides like each one is her own daughter.
For more photos and information, read my article about a wedding I recently did the flowers for at the Ruthe Jackson Center, Ashley & John: A Dreamy Garden Wedding.
Photos: Images By Rebekah
Rebekah Greenawalt, Owner
www.imagesbyrebekah.com/
Cell: 817-691-2556
---
 Piazza in the Village
77 Piazza Ln
Colleyville, TX 76034
www.piazzainthevillage.com
817-520-0026
Piazza in the Village is an elegant place to have a wedding and reception, with a beautiful chapel and two gorgeous ballrooms to choose from. I've been there many times, and the staff is always very nice and accommodating. They are also building a new location in McKinney that I can't wait to visit.
For more photos and information, read my article about a wedding I recently did the flowers for at Piazza in the Village, Mila & Ryan: A Gorgeous Wedding.
Photos: Feather & Twine
www.featherandtwinephotography.com/
---
The Milestone
9850 Jim Christal Rd
Krum, TX 76249
www.themilestone.com
940-479-2223

The Milestone is located in Krum, Texas, near Denton, just a short drive from Dallas. The facility boasts a lovely indoor chapel and several outdoor locations for the ceremony, including a gazebo overlooking a charming pond. The grand ballroom holds up to 300 people, and the food is always fabulous. Plus, you have the whole premises the entire day, so you won't feel rushed. The bridal suite and groom's lounge are first class. You'll really get to enjoy your day. All the coordinators I've worked with are top-knotch, friendly, and helpful.
For more photos and information, read my article about a wedding I recently did the flowers for at The Milestone, Cynthia & Aaron: A Fall Wedding at The Milestone.
Photos: Erica Joyce Photography
www.ericajoyce.com
---
Classic Oaks Ranch
7112 FM 2738
Mansfield, TX 76063
www.classicoaksranch.com
817-652-3512
With newly renovated barns and acres of beautiful fields, Classic Oaks Ranch is a wonderful venue for brides wanting a shabby chic wedding. For the ceremony, there are several locations, including a beautiful wooden gazebo. You can also have your ceremony in a field with assorted benches and a lovely alter area. The barns are gorgeously renovated, one with a floor-to-ceiling stone fireplace. On-site amenities also include a bridal salon, bridesmaids' lounge, and groom's lounge. Of course, since it's a ranch, there are also animals on the premises, including camels, longhorns, and horses.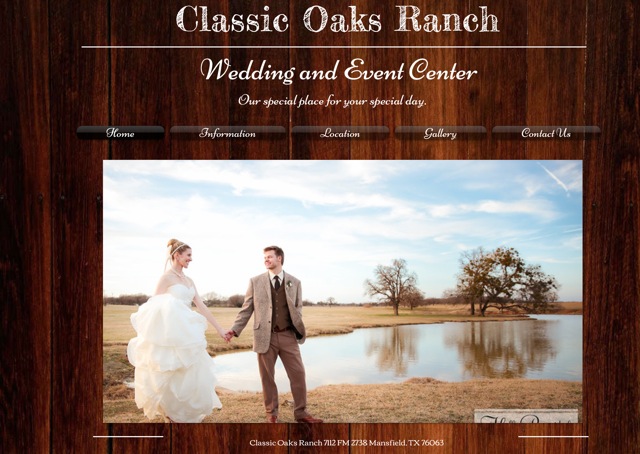 ---
 Marie Gabrielle Restaurant and Gardens
2728 N Harwood St
Dallas, TX 75201
www.marie-gabrielle.com
214-871-2097
Marie Gabrielle Restaurant and Gardens is a hidden jewel in downtown Dallas. Have your ceremony outside in the gardens or in their indoor facility. Then, have a wonderful reception dinner in their private restaurant. The food is incredible and the facility is beautiful. You will feel like you're in a secret garden, the perfect place for a dream wedding.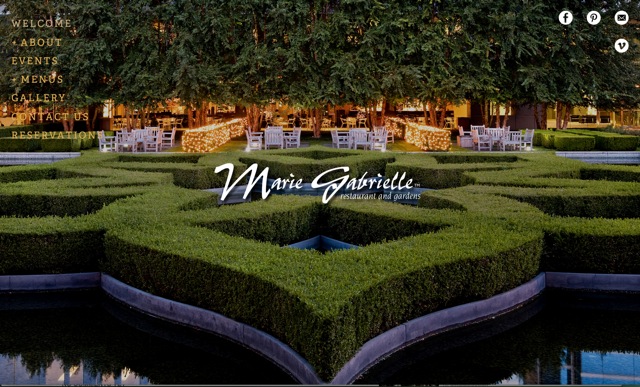 ---
 The Chapel at Ana Villa
5921 Stone Creek Drive
The Colony, TX 75056
www.chapelanavilla.com
972-624-8017
The Chapel at Ana Villa is a new wedding and reception facility in the Dallas area. They have a beautiful Spanish-style chapel that seats over 275 guests. They also have two ballrooms: The Grand Ballroom and La Cava (Spanish for "The Wine Room"). The Chapel at Ana Villa is within walking distance from 2 hotels, which is nice for out of town guests.
For more information, check out their website.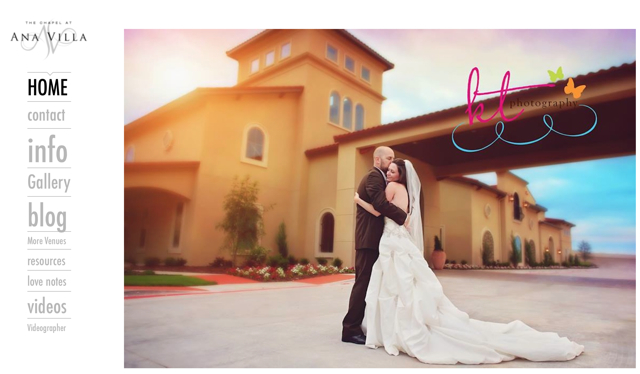 ---
Maddox-Muse Center, Bass Performance Hall
525 Commerce St
Fort Worth, TX 76102
www.basshall.com
817-212-4300
The Maddox-Muse Center offers several gorgeous rooms to rent for events. I recommend the Van Cliburn Recital Hall for wedding ceremonies and the McDavid Studio for receptions. I love that this venue is in the heart of downtown Fort Worth, with many hotels for out of town guests within walking distance.
---
 The Ashton Depot
1501 Jones St
Fort Worth, TX 76102
www.theashtondepot.com
817-810-9501

The Ashton Depot is quite a unique venue to have a wedding and reception, as it was once a train station. Built in the late 1800s, this incredible building was recently restored; it is absolutely gorgeous. There are indoor and outdoor wedding and reception areas, and the on-site catering is wonderful.
Check out their website to see some beautiful photos. It is a truly magnificent building; the perfect setting for a dream wedding.
---
 Perkins Chapel at SMU
6001 Bishop Boulevard
Dallas, TX 75205
www.smu.edu/Perkins/Chapel/Weddings
214-768-8436
For years, Perkins Chapel on the SMU campus has been one of my favorite venues for wedding ceremonies.  It is a beautiful, single aisle chapel; simple and elegant. The Meadows Museum of Art (www.meadowsmuseumdallas.org) across the street from the chapel is a perfect place to host a reception. SMU is centrally located in Dallas, so it's easy to have the reception in downtown as well.
---
Delaney Vineyards & Winery
2000 Champagne Blvd
Grapevine, TX 76051
www.delaneyvineyards.com
817-481-5668
Delaney Vineyards and Winery in Grapevine is the perfect venue for wine lovers who want to be married amongst the vines. The ceremony and reception can both be held in The Grand Barrel Room.
---
 Museums
I always love doing weddings and receptions at the various museums around Dallas. With such beautiful architecture and interesting exhibits, sometimes all you just need a touch of decor. Here are a few of my favorite museums for weddings and receptions:
The Crow Collection of Asian Art
2010 Flora St
Dallas, TX 75201
www.crowcollection.org
214-979-6430
Dallas Museum of Art
1717 N Harwood St
Dallas, TX 75201
www.dallasmuseumofart.org
214-922-1382
Frontiers of Flight Museum
6911 Lemmon Ave
Dallas, TX 75209
www.flightmuseum.com
214-350-3600
(Reception Only)
Old Red Museum
600 Commerce St #101
Dallas, TX 75202
www.oldred.org
214-653-6893
I'm always eager to discover great, new venues to recommend to my brides. What other wedding and reception venues do you think should make the list?